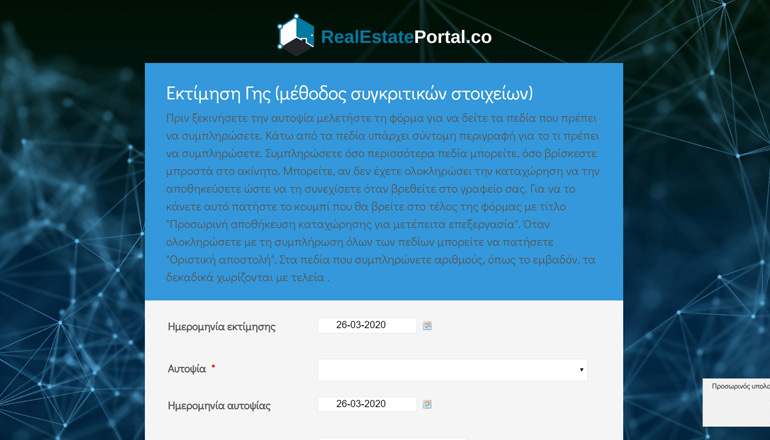 VALUATION FORMS: VALS FORMS
Enter the estimation data in the corresponding form which performs automatic calculations following a specific methodology for determining the value. We do not request personal information of your customer.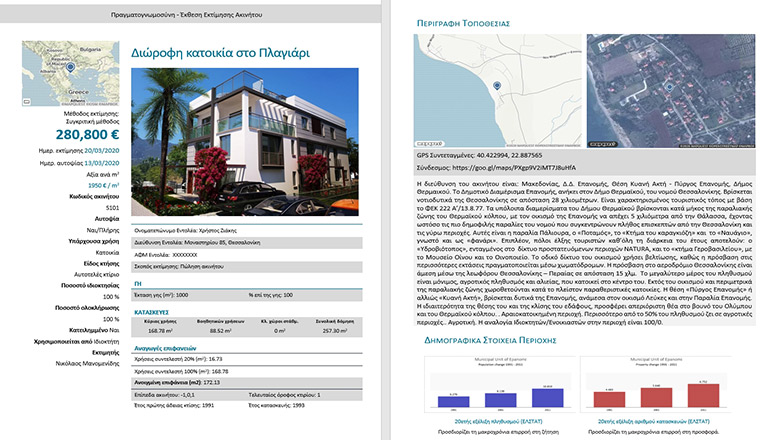 VALUATION REPORT
The appraisal report that you receive is a complete report with maps and diagrams, also it is in open format (Word) so that you can modify it as you wish. Property Valuations
Complete real estate appraisals in dt... time!
The "VALS" forms support appraisers to save valuable time by providing them with:
automatic text formatting and paging at a editable word file
automatic cutting of snapshots from the location of the property on different scales (Neighborhood, Municipality, Regional Unit)
pre-completed texts and area statistics
land uses and building regulations
control over the completion of all necessary factors, for each individual valuation method.
More
Choose a Property Valuation Method
Testimonials
Hundreds of real estate professionals use our services every day to create real estate appraisals.
The assessment form is complete and simple to use. In less than 20 minutes I had in my hands a complete, stylish and detailed appraisal report that I gave to my client.
1
DATA ENTRY
You fill in the fields of the real estate appraisal form by selecting the appraisal method you want and the system creates a complete appraisal report for you, making calculations using estimation models, diagrams, external data and templates.
2
AUTOMATED DATA PROCESSING
The system receives your data and using individual automations and tools, the valuation report is created.
3
VALUATION REPORT COMPLETION
After the check and within 4-24 hours, you will receive in your email the deliverable in open WORD format, so that you can edit it.
Are you interested in our solution?
DO YOU WANT TO SCHEDULE AN ONLINE DEMONSTRATION OF THE SYSTEM?
Pick a date and time for the demonstration